Resort Český les
Modern accommodation
in harmony with nature
Are you looking for a city escape in an untouched location? The Resort Český les will offer you a modern getaway with everything you might need for a well deserved break, trips around the area, important business meetings or for unforgettable family gatherings.
Explore a new one of a kind place where you will undoubtedly want to return. Settle in, taste dishes made from locally sourced ingredients, enjoy spending time with your loved ones and discover the beauty of the Bohemian Forest directly from its center.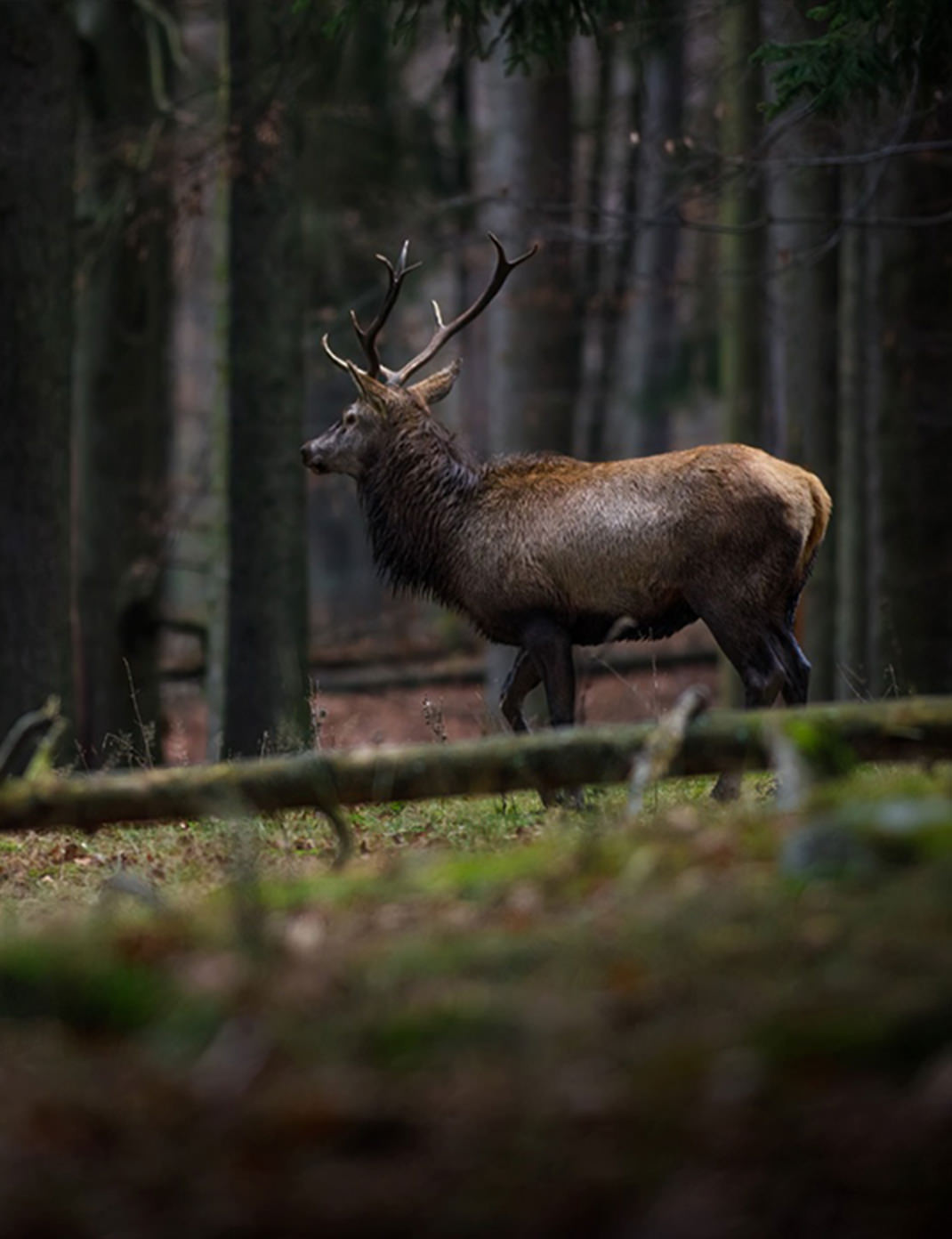 Go on trips full of adventure without crowds of tourists in your way.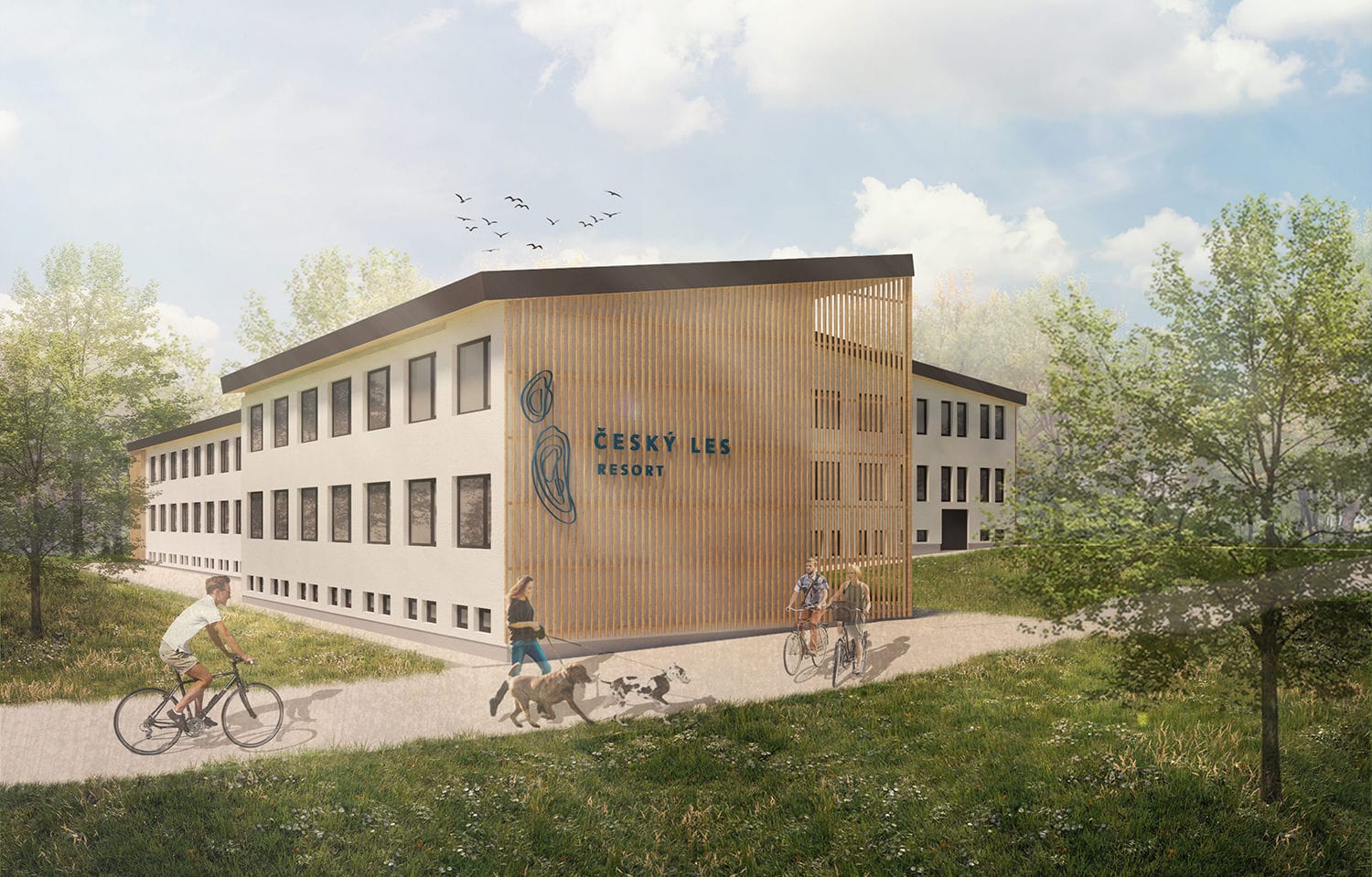 We build a modern accommodation while being conscious and respectful towards local nature.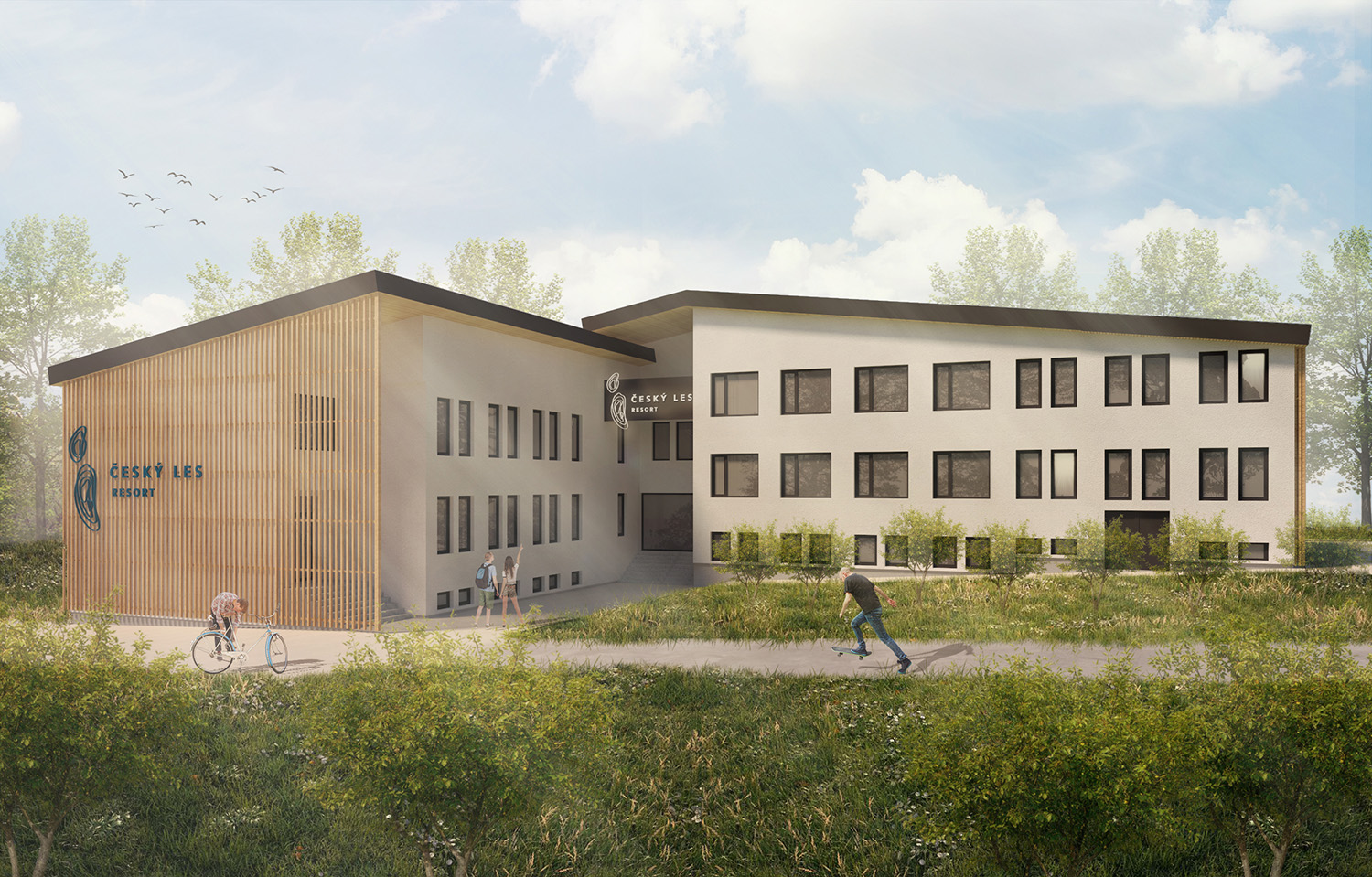 We build a modern accommodation while being conscious and respectful towards local nature.
Welcome to The Resort Český les
A place where everything is in the palm of your hand – a comfortable accommodation for single travelers, families and large groups, a restaurant with authentic traditional Czech and foreign cuisines, conference rooms and halls for business meetings or teambuilding and last but not least a wellness area for a well deserved rest. Our resort will also serve you as a strategic starting point for cycling trips and hikes.
Aparthotel Železná and Boutique Apartments Železná – 2 studio houses that historically were a part of the Czech- German boarders. During renovations we made sure to use materials native to the region – wood, glass and steel.
Our studio suites
ACCOMODATION
You deserve some rest
A total of 52 double and twin rooms and comfortably arranged studio suites will provide you with the comfort and privacy during your stay. We will gladly serve you in our restaurant with outdoor seating or in our designer bar. And you can regenerate your energy by walking in the garden or relaxing in the wellness area available to you.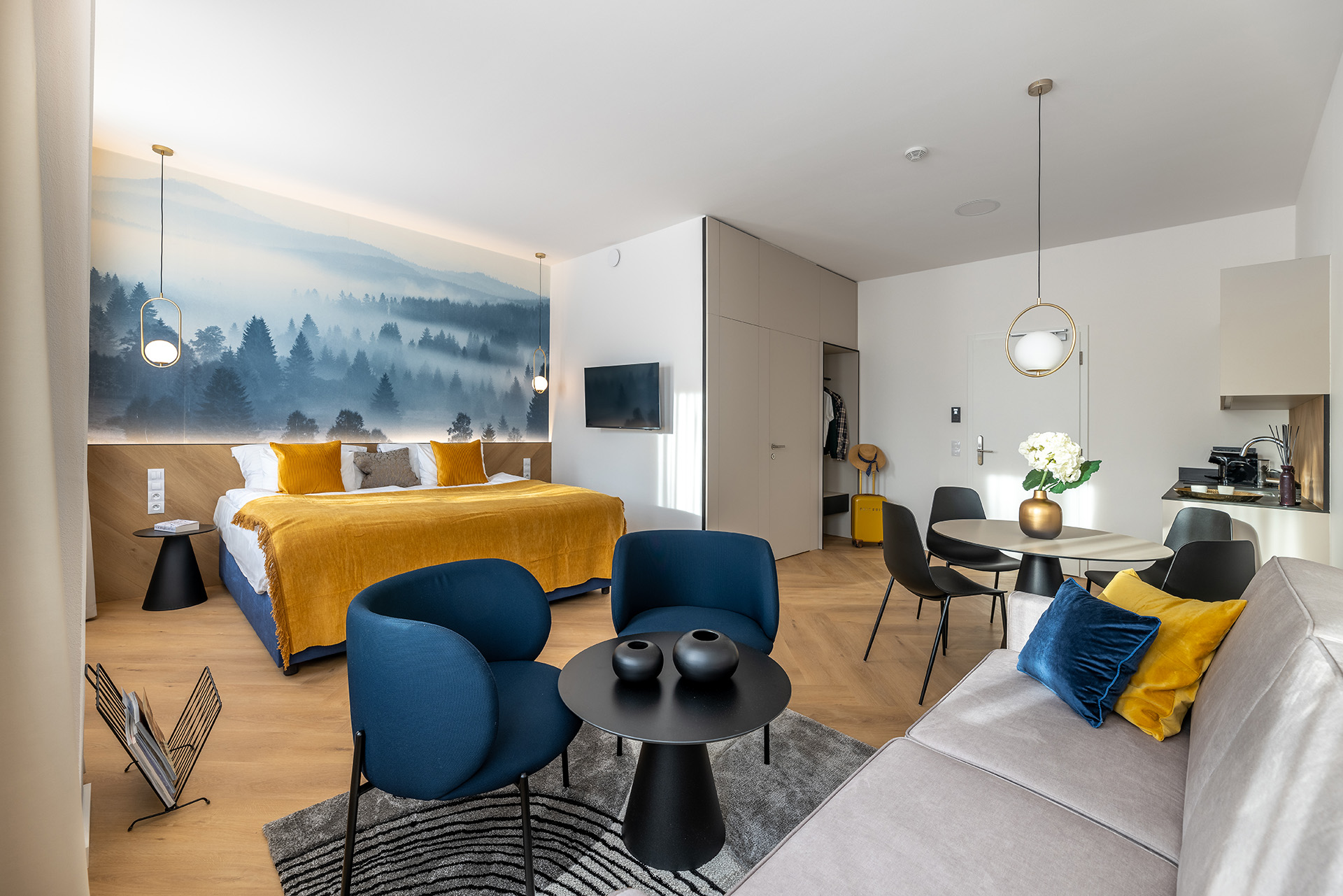 Visit the room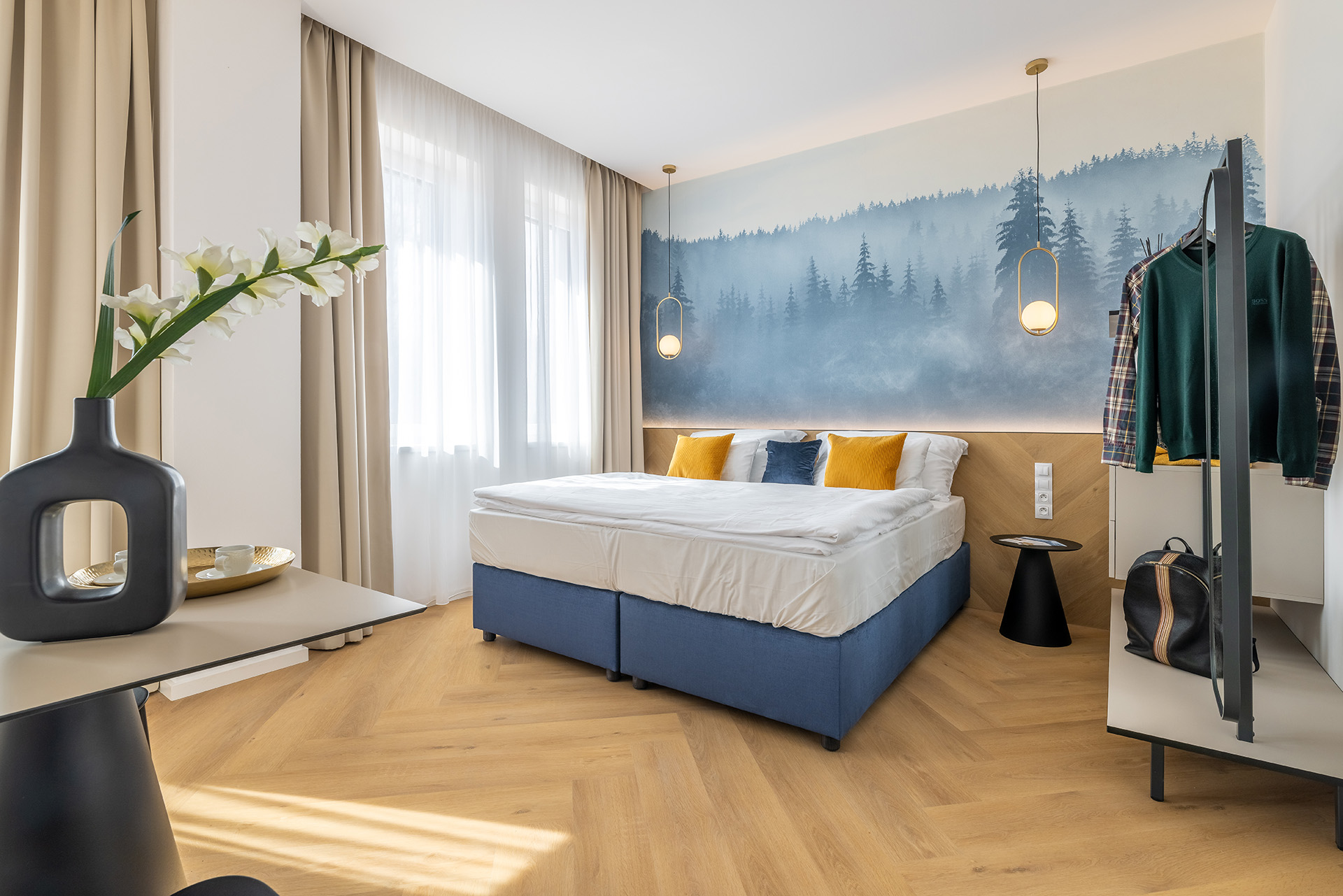 Visit the room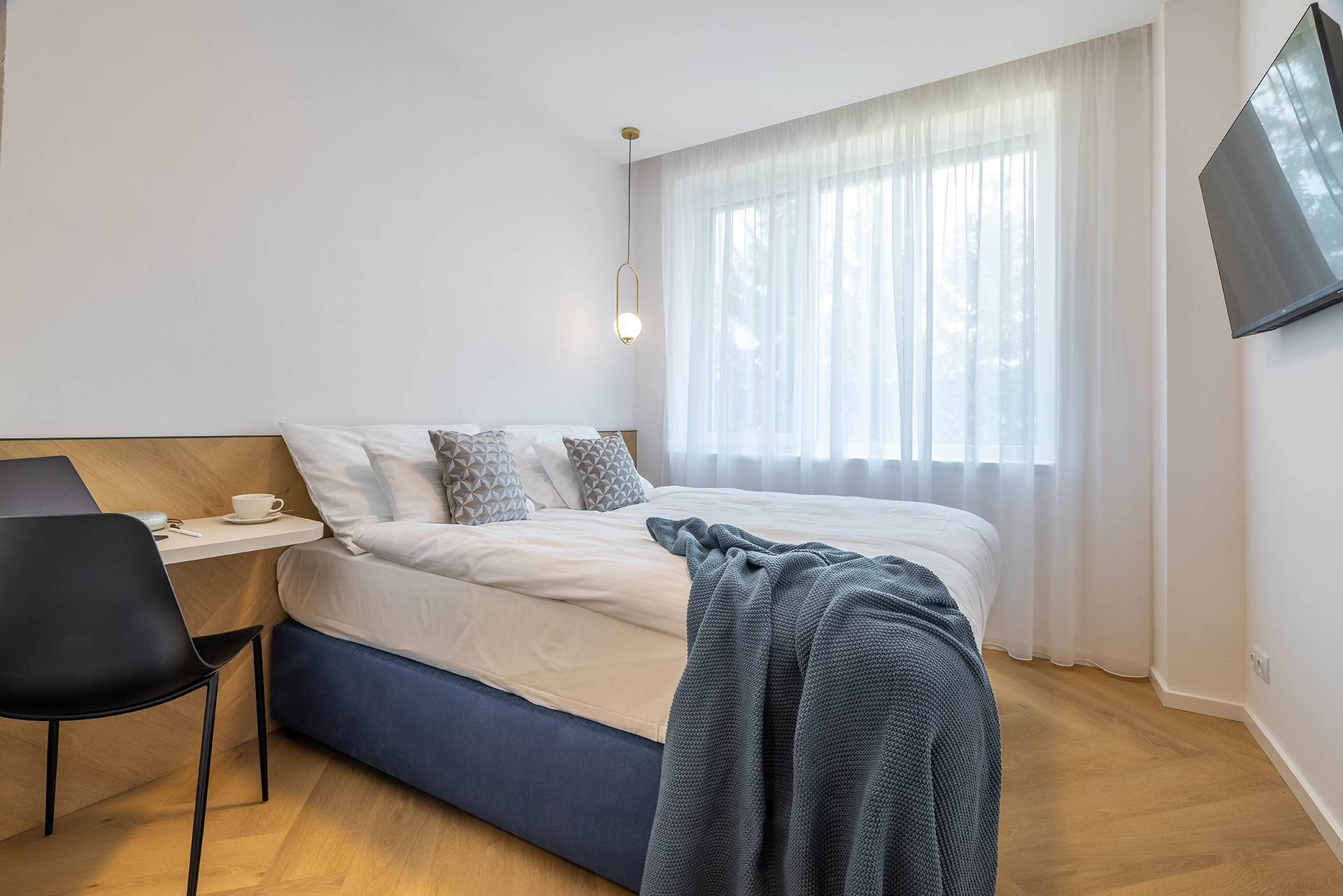 Visit the room
Master
Comfort
Active?
Choose the one you want
Gastro
Enjoy the specialties of Czech and foreign cuisines that are made from locally sourced ingredients according to the á la carte menu in our newly renovated restaurant or while sitting outside in the open air.
Czech,
foreign specialties,
vegetarian
The sophisticatedly designed bar can be found in the former boiler room. Whether you opt for one of our original signature drinks or enjoy your favourite beverage, you are sure to have a pleasant time at the Kotelna Bar after a busy day.
Champagne De Venoge, a wide range of whisky and other alcoholic beverages including premium brands, Plzeňský Prazdroj, Nikl wheat beer (our own beer special created by Proud brewery).
Products from the Bohemian Forest
We live in harmony not only with the surrounding nature but also with likeminded people. That is why you will be able to find and purchase products from local vendors, farmers, flower growers or beekeepers.
SERVICES
Extraordinary experiences in Resort Český les
Wellness area
Enjoy peaceful relaxation and well- deserved regeneration after a hard day in our wellness area, where you can look forward to, for example, a steam sauna, a Finnish/bio sauna and a Kneipp path.
Weddings and family celebrations
Say I do in the beautiful surroundings of the Srdíčko nature reserve or in the Smíření park, or perhaps celebrate your anniversary with the possibility of accommodating up to 150 people.
Teambuilding and active stays
The Bohemian Forest is an ideal place where you can strengthen relationships with colleagues or get in shape for your sports performances. You also have a hall at your disposal, which you can use for group yoga and other exercises.
TRIPS AND EXPEDITIONS
Explore the Bohemian Forest and its surroundings
The Resort Český les will become a perfect starting point thanks to its strategic location for hikes and trips around the area. On foot or on a bike, you will always find interesting places to explore. Lets take a look on some of the places you will be able to find.
Are you ready to visit us?
Before you start packing your luggage, please make a reservation for your preferred studio suite for the date you have chosen
BOOK